Building the 75g
Articles
Search Reef Sources:
Building the 75g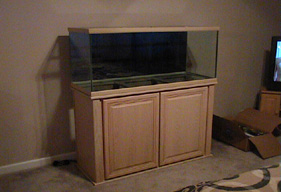 As a 10th anniversary gift, my wife bought me a 75-gallon Oceanic tank and matching stand. This was to be the replacement for the 40-breeder, which has been the basis for this entire web-site. If you can imagine, I was pumped. I asked her if she understood that not much of my other equipment would be sufficient, and many pieces would need augmentation or replacement. She agreed that within reason, I could spend whatever was necessary to reach my end goal. "Seeeew kewwl." (Marital side-note: buy them a diamond, get a tank in return.)
So, I immediately started planing on how to outfit this new tank. I bombarded the lists and newsgroups with questions regarding the latest, greatest equipment, and decided to add the following:
2 x 175w PFO MH with 12000K Sunburst bulbs
2 x 48" NO Actinics with a Coralife electronic ballast
AquaC Remora Pro hang-on skimmer
Custom built canopy.
150# LR (60 from original tank)
Additional cleanup crew
This added an additional $1,000 to the original price, even after shopping around for the best prices. Ouch!, but she said it was OK.
prev | next