Building the 75g
Intro
Canopy
Rock
Stand
Crisis
Complete
Articles
Search Reef Sources:
Preparing the Stand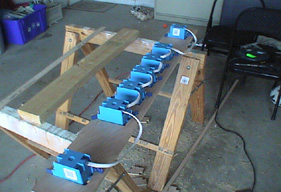 Power, particulary outlets, is something that a reef tank just can't have enough of. Shelf space is another major need. So, I decide to add outlets and shelves to the stand. I started by measuring out a sectio of plywood theat would span the stand, and the figured out how many outlets that would hold. I decided on 6 dual outlets and a master "EMERGENCY" power switch, so I could shut off everything with one switch. This was accomplished with ordinary household switches, plugs, and j-boxes. Also, this power strip is plugged into a GFCI outlet.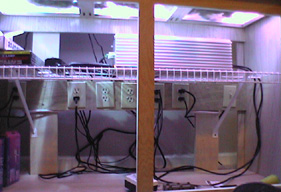 Then, since I had some spare ClosetMaid closet organizer wire shelving in the garage. I mounted a wire shelf to hold ballasts, wavemakers, and such. Then I mounted the power strip directly below it. This gives me ample space to store all of the miscellaneous crap that goes along with the hobby.
As a side note, since this tank is in the master bedroom, I chose against a traditional sump due to the noise that are a part of sump ownership.
Now that the stand is set up, it is time to level it and fill it with saltwater in anticipation of the big day. (Again, this turns out to be fortuitous, as you will soon see.)
Now comes the crisis...