Search Reef Sources:
Who, How, and Why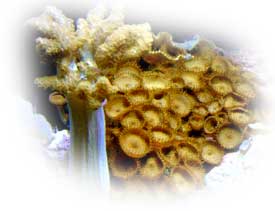 This web site was designed for a twofold reason. My first and foremost was a love of all things fishy. I have been a fish nut as long as I can remember. I've long thought about putting together some home page information on the topic, but just never seemed to get around to it.
The second reason for it is a love of all things computer-related. These things seem to get under my skin. They are in no way related to fish or reef keeping, but I have managed to use computers to further my skills and education as a fish hobbyist.
To create this site I used several tools, but primarily Dreamweaver 2 from Macromedia. The animations were done in Flash 4, also from Macromedia. I had toyed with it for some time before attempting to do anything real serious with it. This is not really serious, but I learned several animation techniques that, for a graphically impaired person like myself, were pretty cool. That is about it. The yellow tangs (Fakesoma Flavescens) were created in Ray Dream Studio from Meta Creations, and then were vectorized from within Flash. All the coral is from my own tank, shot with a Nikon CoolPix 950. I used Adobe Photoshop and Fireworks 2 from Macromedia to optimize the images before importing them, and then reduced the devil out of it to get them small and cartoony.
For the straight HTML stuff I used Dreamweaver 2, and Allaire's Homesite 4. Other than vi, notepad, and ftp, that is about it. If you have any questions, comments, corrections, or just want to drop me a line, try scott@reefsources.cjb.net.
Please remember that everything presented here is my OPINION, no more, no less. I hope you enjoy it.
Scott