Building the 75g
Articles
Search Reef Sources:
Building the Canopy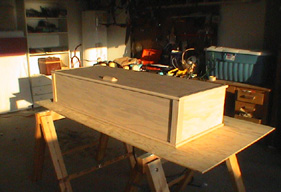 I needed to build a canopy to match the stand, so I broke out my ruler and made a run to Home Depot. After many trails, tribulations, and design iterations, I decided on a flip-top unit, dual fan cooled in the back.
While I was building the canopy, I ordered my lights from Marine Depot (who I recommend highly.) As I mentioned earlier, I choose the dual 175 PFO metal halide unit with 12000K sunburst bulbs. Also, I stopped down at my LFS and picked up the Coralife NO bulbs and ballasts.
This is where I find out that the 48" bulbs will not fit in my 48" hood, due to poor design on my part. With the end caps, the bulbs are longer than the 48.75" I allowed for them. (Helpful hint: The four steps to building are measure, measure, measure, build). So, I returned the 48s and got 36s. It is OK, as I only wanted to supplement actinics for dawn/dusk use anyway.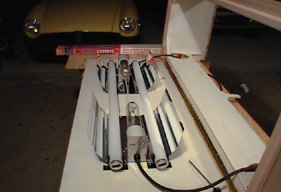 When the PFO lights arrived, I mounted them into the hood, and then mounted the NO within the reflectors for the MH. Notice in the photo on the right that the entire inside is painted white. That fact, plus the hi-tech reflectors will help to put as much light in the tank as possible. Sure there are other reflector materials, this is just the one I chose.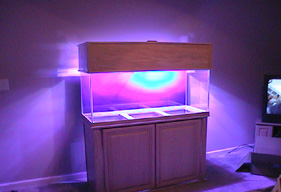 With the lights mounted, it was time to put the canopy on the tank. I got it installed, laced up the Coralife ballast and fired it up. All systems were a go. No I can move on to the live rock.